Despite Best Efforts of BLAST, White People Still Can't Dance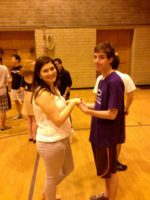 Northwestern's Ballroom, Latin, and Swing Team announced today that despite years of concerted efforts, white people simply cannot dance.
"We tried, we really did," said BLAST president Anita Quizphe, WCAS '18. "We do shows, classes, social media outreach, and we've achieved a lot. But the whites are… well, like I said, we tried."
BLAST emphasizes inviting and training up inexperienced dancers who might feel intimidated by other dance troupes on campus. According to some members, this strategy has had immensely positive results.
"I was an awful dancer before I came to college," said Kyle Jung, MEAS '19. "Just atrocious. But a friend talked me into joining BLAST, and I've learned so much about music and culture, not to mention finding some self-confidence."
Asked to evaluate the progress of his white classmates, Jung was less optimistic.
"It's, uh, hard to make comparisons," he said. "But… Well, I'm not saying there aren't exceptions. One of our best dancers is so white she once got a sunburn in October.
"But the overall trend isn't budging, no matter how hard we try."
The Flipside is working to confirm reports that white students angered by BLAST's comments are starting a dance troupe called "Just Jump, Fist Pump."