Origami Club Folds After First Meeting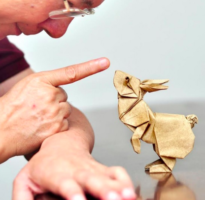 In a shocking turn of events, it looks like Northwestern's origami club's first meeting may also have been its last.
For the past few weeks, excitement has been buzzing around NU 'gami, campus's premiere club for origami education, history and appreciation. After much anticipation, the club had their first meeting this past Monday, during which they heard a rousing, inspirational speech about the importance of origami from club founder and president Robby Kin. They then proceeded to fold approximately 200 paper cranes that now decorate trashcans all around campus. As the meeting disbanded, members were told to keep an eye out for extra colored-but-only-on-one-side paper for next week's new shape: the heron.
However, facing pressure both internally and externally, it is possible the club may never get the chance to stretch its wings, but instead have them be kind of crumpled and uneven. A few days ago, NU Paper Airplane club lodged a formal complaint with ASG, citing their exclusive monopoly on all organized paper-based folding activities.
While 'gami is expected to fight the charges, an inside source has informed us that their chances are about as slim as the margin for error on an origami snowflake. Additionally, reports are surfacing of a potential power struggle among the power-hungry executive board, with not enough responsibilities to sate the palate of the two dozen board members.
"It started off with Jimmy, who wanted to do more than just change the slides on the projector," said Robby Kin in a recent interview. "Next thing you know, he wants to take over door holding duties as well, and that's Kelly's job. So if he does that what the hell is she supposed to do?"
If this week does prove to be the last chapter in the short history of NU Origami Club, let us all remember this: no matter how hard you try, you can't fold success.