Kellogg Renovation to Include Only the Finest Silks and Draperies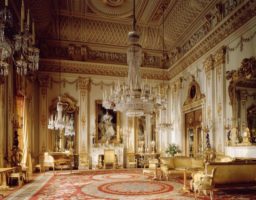 Like the soft thud of a bird hitting glass, Kellogg School of Business spokeswoman Janet Simonetti announced yet another new renovation plan for the Kellogg Global Hub (KGH). Sandwiched between her attempts to dismiss the behavior of infamous Kellogg dickwad Kyle Rossi and the announcement of a new five-figure donation doubling the school's martini budget, Simonetti dedicated barely a sentence and not even a quarter-breath to confirming reports that the KGH would once again receive an injection of rich alums' money.
In a later press release, Simonetti added, "In order to better fulfill our mission of enriching ourselves at the expense of others, the KGH will be renovated to include a comprehensive set of dark purple, gray, purple, gold-purple, gold, light purple, white, and white-and-purple draperies all throughout the complex."
The university's 2018-19 budget shows that the renovation is predicted to cost north of seven million dollars, which translates to another 0.47% tuition increase on all Northwestern students for the upcoming year.
According to renovation plans released by the School of Business, thirteen royal purple curtains will hang down three stories from the ceiling to what is now the minimalist set of couches for prospies to sit at and for students to be inconvenienced by. In addition, silk drapes will line the open-air balconies facing the central cavity, and every professor's office will now include Venetian blinds to block out the sun bouncing off the rest of the building. Several sections of glass on the fourth floor will be removed so as to simulate a wind tunnel. A tapestry depicting the crushing of a philosophy major's dreams under the boot of market forces has already been put up in the faculty lounge on the third floor.