Rest of Clubs Fair Horrified by Mathletes' 'Slave Leia' Recruiting Tactic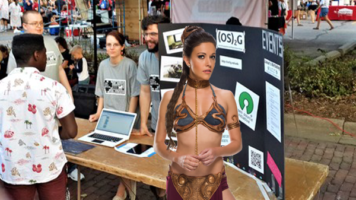 The Northwestern Clubs Fair was scandalized Thursday afternoon after the student organization NU Mathletes unveiled their Fall 2018 recruitment tactic: a super hot chick in a Slave Leia costume.
"In the past, we've had trouble distinguishing our club from the hundreds of others present at the fair," said club president Daniel Ohey, WCAS '20. "However, as we all know, no dude can resist the adolescent sexual fantasy of Slave Leia. They're gonna swarm. We don't even care if they're good at math. But, I mean, if they're into Leia, chances are they're a total geek anyway so we're feeling good about it."
According to Ohey, the presence of Slave Leia led to more interest in their organization than ever before, with over 400 signups to their listserv and 75 phone numbers given directly to "Leia," which she reportedly intends to use to find a good Math 220 tutor this quarter.
When asked about his interest, freshman signup Clive Grunman, SESP '22, remained vague on his actual knowledge of mathematics and only asked if Slave Leia would be attending the kickoff party this weekend. Despite this, Ohey and his Mathletes remain hopeful for their chances at regionals this fall.