Pete Davidson Really Missing Life of Two Weeks Ago, When He Could Shop at Sears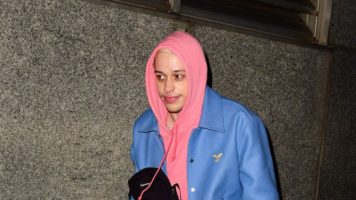 Last week was tough for SNL cast member Pete Davidson, who reportedly enjoyed a "blissful and carefree" summer. On October 15th, Sears filed for bankruptcy, bringing Davidson's happiness to a halt.
Pete was one of Sears' biggest fans and most loyal shoppers, even tattooing the Sears logo on his body. Now that Sears is no longer financially solvent, Pete has gone through the painful process of covering up tattoos that were once so meaningful to him. "I've been covering a bunch of tattoos, that's fun," Pete explained, "I'm fucking 0-for-2 in the tattoo department." Many of Davidson's fans speculated that he was referring to the Kmart tattoo he got last year.
Despite Davidson's sadness, he admits that he saw it coming. Right before the bankruptcy filing, fans speculated that Davidson wasn't doing too well based on some jokes he made on the "Weekend Update" segment of SNL.
The closing of his favorite store proved too much to handle and strained his relationship with his fiancé, Ariana Grande. Given the struggle of losing Sears Pete is facing, Grande had no choice but to call off the engagement. The couple will reportedly stay friends, but Pete just has too much on his plate right now to be thinking about a wedding.