Six Flags Posts Students' Midterm Grades Around Park for Fright Fest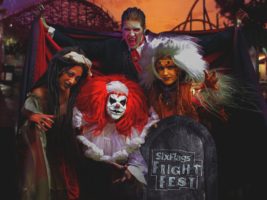 On Friday Northwestern students were invited to Six Flags' Fright Night for free, but little did they know the scariest part wouldn't be an local actor "currently in-between roles" in a corn-syrup-blood-drenched straight jacket.
In years past the park has gotten reports from NU students that Fright Night just wasn't scary enough, so this year the park departed from the usual program.
"We really wanted to step it up this year," said Paul Brunman, manager of Six Flags Great America, "We were trying to think of what would really make college students' blood run cold."
Brunman and his team gathered students' grades, posting them around the park and handing them out to the usual, costumed ghouls and goblins.
"I threw up," said Keith Peterson a current pre-med sophomore, "The funnel cake wasn't sitting too well with me while on Raging Bull but I kept it together. What really put me over the edge was a scary clown handing me my CHEM 212 grade and saying, 'Oh no, I guess mommy's little boy won't be a doctor after all!'"
Alia Phillips, a junior, saw a similar situation unfold in the bathroom. She was washing her hands when a she heard a bloodcurdling scream from beside her. The girl who screamed clutched her graded paper from where it was taped to the mirror before running back into a nearby stall.
"She was scared shitless," said Philips, "We all were."