New Study Reveals That You Aren't Good Enough to Go Here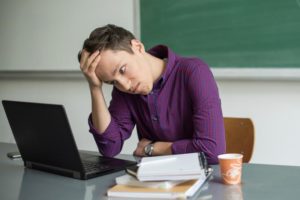 A new study published in the Daily Northwestern has revealed that you are neither academically nor socially good enough to go here.
A team of researchers has been studying the lives of hundreds of members of the Northwestern student body and has definitively concluded that you are not nearly as skilled or intelligent as your classmates. Head researcher, Dr. Mark Patel stated, "Our data has revealed that almost all of the students here are highly qualified to be attending a prestigious institution such as Northwestern. However, one subject we observed [you] appears to have absolutely no right to be here and must have slipped through the cracks in our admissions process."
This new discovery explains numerous previously unexplained phenomena, such as the fact that you sometimes get lower grades on your exams and are often not as comfortable with certain material as your classmates. The study also explains why it seems that your peers are much more involved in the school community and have tougher homework loads while still experiencing more fun and success than you with your pitiful schedule.
Dr. Patel and his team hope that their discovery will help admissions prevent mistakes like you from snatching valuable spots from better applicants in future Northwestern classes.