Smokey The Bear Can't Believe This Was The Week He Went On Vacation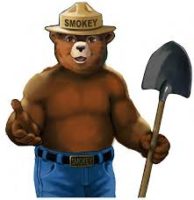 Smokey The Bear had been looking forward to his annual trip to Disney World for months. However, as he soon found out, preventing forest fires was a job that only he could do. Smokey had been avoiding all work correspondence, but on Wednesday, as he was taking a picture with Mickey Mouse, a notification marked *EXTREMELY URGENT!!!!!* appeared on his phone. The well-meaning photographer suggested he might need to check the email, and his entire trip was destroyed.
"I just wanted one week. ONE GODDAMN WEEK OF MAGIC IN THE HAPPIEST PLACE ON EARTH. California could have picked any other week of the year to burn down, and it had to pick this one," Smokey raged. "I did not bust my ass through four years of communication studies and environmental science for a 24/7 job that depends on random Americans reading my fire safety posters displayed all over every campsite."
In a later interview, Smokey expressed his hope that the entire world burns in a forest fire so that he never has to return to his job again.