Plans to Include SpongeBob in Avengers 4 Canned Following Deaths of the Only Two People Who Wanted It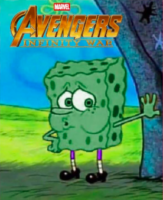 Following the deaths of Stan Lee of Marvel and Stephen Hillenburg, the creator of Spongebob, executives from both Marvel Studios and Nickelodeon have decided to toss their plans to collaborate on featuring Spongebob in the new Avengers film.
"What Stan Lee says goes," explained Marvel executive Jeanette Wei. When Stan decided he wanted SpongeBob to make an appearance in Avengers 4, nobody dared to question him, even though we all thought it was a terrible idea." Hillenburg—apparently a huge Stan Lee fan—was open to the idea, pointing out that Spongebob had been a hero in the "Sponge Out of Water" film, and even acted as The Quickster in the International Justice League of Super Acquaintances.
Little is known about what role SpongeBob would have played in the Avengers film, but a previously unreleased concept art poster shows him alongside the other heroes with the tagline, "Forget Infinity War: THIS is the most ambitious cross-over in history." Another potential poster just shows SpongeBob in an Iron Man suit above the tagline "Thanos is Fucked."
Fortunately, both companies have agreed that the idea should never actually come into being, saying that "a movie in which The Avengers fight along a talking sea sponge would all but destroy the credibility of both Marvel and Nickelodeon in one fell swoop." In a press statement, Disney CEO Bob Iger told reporters, "We mourn the passing of two incredibly talented, inspiring men, but now that they're gone, we don't have to worry about releasing the worst nonsense ever to be seen on the silver screen."