Wildside to offer fifths of vodka to help boost attendance at sporting events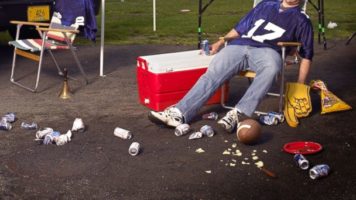 Forget free t-shirts and food, the Northwestern Wildside is ready to get you shmacked. Desperate to increase student attendance at sporting events, the Wildside advertised free fifths of vodka to the first 100 students who showed up to the women's basketball game on Thursday.
"What our student body lacks in school spirit, it makes up for in alcoholism," said Wildside president Lindsey Carlson.
Initially, the Wildside was worried that students would leave when they started handing out fifths of rum when they ran out of vodka.
"It's free booze. Nobody gives a shit what kind it is," said attending junior Alex Jefferson.
Carlson said the turnout at Thursday's game was fantastic, but that the Wildside will not be offering fifths of alcohol in the future given that during the halftime show Willy the Wildcat was found engaged in a drunken hookup with the opposing team's mascot.
"We'll stick to airplane minis from now on," she said.