Student to Travel to San Diego to Witness Loss, Decides Indy Wasn't Far Enough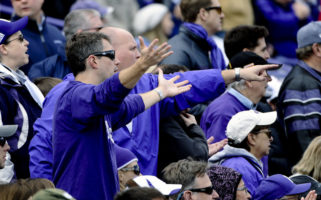 Paul Johnson, WCAS '19, has decided to follow up his trip to Indianapolis, Indiana for the Big Ten Championship Game by joining the football team in San Diego, California to watch them lose to Utah in the Holiday Bowl.
"That three-and-a-half-hour bus ride was a doozy, but that wasn't even half of what I'll do to see Northwestern football fight valiantly in defeat," Johnson said.
The lasting memories Johnson experienced at Lucas Oil Stadium drove him to chase that feeling all the way to California, he said.
"I knew December was going to be a great month after watching that game," said Johnson. "Two interceptions. A complete absence of defense. Just enough of a chance of a comeback for that loss to feel even sweeter. The ideal game, and the perfect payoff for a full day of travel."
While Johnson acknowledges that he was not alone in anticipating a loss by Northwestern, he said it felt "really reaffirming" to watch the hope drain from the crowd as the fourth quarter wore on, and he plans to enjoy the same sensation even farther from home on New Year's Eve.
"Mostly I cannot wait to conclude 2018 with a loss 2080 miles from home," said Johnson. "The silent 30-hour drive back to Evanston will be the highlight of my college experience."