Bobb residents given free posters of newly renovated Welsh-Ryan Arena to cover up patches of mold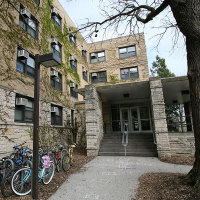 Following complaints that mold in Bobb dorm rooms was a "health hazard," "unsanitary" and "aesthetically unpleasing," university officials leapt into action.
The University administration provided every Bobb resident with posters of the newly renovated Welsh-Ryan Arena to place over patches of mold.
"A glossy poster of the $110 million renovated arena makes my chronic cough entirely worth it," said Bobb resident Jason McKeen.
McKeen reports that whenever he's feeling down or vaguely nauseous, he enjoys admiring the fifteen Welsh-Ryan Arena posters plastered around his room. He says that looking at the state-of-the-art athletic arena motivates him to get out of Bobb and go watch more basketball games. Or just to get out of Bobb.
One lucky resident, Jenna Rowland, was given a 120 square foot poster to cover an entire green-spotted wall.
"My head hurts thinking about all of the reasons I'm glad the arena was built instead of Bobb being renovated," said Rowland. "Literally…my head's been hurting since move-in day."