Student Who Tried Water Infused With Every Fruit That Went Bad In Plex Releases Memoir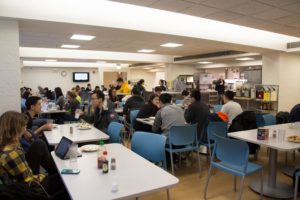 I gaze upon the undulation of rotten plant flesh and what should be the most innocent of beverages before me. Seemingly of its own accord, my hand reaches out and releases a stream of the contaminated beverage into a plastic cup. I brace for the worst.
Above is an excerpt from the harrowing memoir of Andrea Ramos, WCAS sophomore, who dared to do the impossible: drink Sargent's honeydew and grapefruit-infused water and survive.
Her courage in the face of extreme trepidation has not gone unnoticed. Within the past two weeks, Ramos's memoir has overtaken the previous local bestseller entitled How To Major In Theatre And Not Be A Loser: The Meghan Markle Story.
In addition to the commercial success a young Ms. Ramos has found in the Evanston Barnes & Noble, the burgeoning author is currently in talks to receive the Congressional Medal of Honor.
"It's people like Andrea Ramos who risk their lives to be the thin white line between us and danger, day in and day out," said a Senate spokesperson. "Because of her courage, we've gotten some senators to finally take a bite of the broccoli served nightly at our group dinners."