Kirstjen Nielsen Resigns Upon Realizing she Forgot Where she Put the Key to the Cages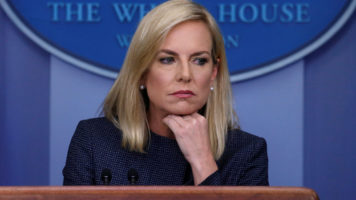 This morning, Kirstjen Nielsen admitted she resigned because although she looked "literally everywhere," she completely forgot where she put the key to the migrant children's cages.
"I thought that I put it next to my decorative vase filled with parents' tears, but it wasn't there," Nielsen said. "Then I was thinking that I remembered leaving it just out of arm's reach of toddlers in cages whining for their parents or whatever, just to toy with them, ya know? But it wasn't there, either!"
Nielsen expressed regret for her prior behavior
"My actions were disillusioned and shortsighted — I knew I should've made a backup key!" she said.
Despite what she is calling a "minor inconvenience," Nielsen says she is trying to look on the bright side.
"I'm just glad that my resignation will give me more time with people I care about," Nielsen said.  "Family is what's most important to me."