Yoda Prime Suspect in 'To Be White Okay It Is' Sticker Controversy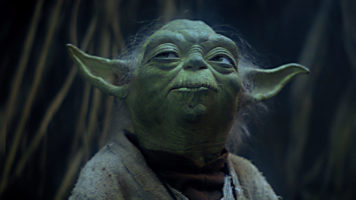 Recently, stickers around Northwestern's campus have appeared with the phrase, "It's Okay to Be White," a slogan with neo-Nazi ties. The stickers left the student body in a state of discomfort and unrest as the Evanston Police Department scrambles for answers. But when stickers with the more niche slogan "To Be White Okay It Is," began to pop up around campus, police quickly zeroed in on the culprit.
"It was totally that little green bastard Yoda," said Evanston Chief of Police Bob Dorser. "After Mayfest picked A$AP Ferg to headline Dillo Day, instead of Yoda's three-hour speech on wisdom, he had to get his revenge somehow."
Reactions to the new "sickening stickering" have varied among the student body. Graduate student Steven Birch, a Star Wars aficionado, was impressed with Yoda's alleged work.
"Now that Star Wars is owned by Disney, it totally makes sense for Yoda to be a racist. It's so clever of George Lucas to subtly pay homage to king anti-Semite Walt Disney!" Birch then proceeded to re-watch the entire franchise on his laptop, accompanied by a bag of Funions.
Yesterday, Yoda himself addressed the allegations on Twitter: "Understand why I'm accused of this I do not. A campaign for the marginalized green community not would I instead make?" wrote Yoda, "Free speech white college kids may strive for, but much larger problems there are for us green-folk. Yes, hrmmmm."
The allegations seemed to have lit a fire underneath Yoda's green ass. At press time, Yoda was caught on camera spray-painting "Matter Green Lives Do" on the door of Chief Dorser's office.