Criminal Arrested for Laundering Money Through Take a Penny, Leave a Penny Service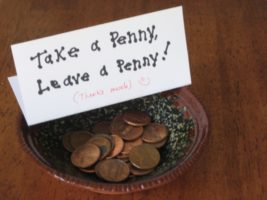 NUPD released a statement on Tuesday night that they'd caught a Mr. Johnny "The Mouse*" Bilderson, Evanston's most prolific criminal. Mr. Bilderson has 0 robbery charges, 1 money laundering charge, and 17 loitering charges on his rap sheet, making him the most dangerous criminal in Evanston history.
Johnny was caught when it was revealed he'd been laundering money for the various Evanston crime families (colloquially known as "fraternities") through a "Take a Penny, Leave a Penny" service in a deli on Dempster street. The deli has since been busted on RICO charges, along with a reduced sanitation score.
"This is a major win for NUPD, and Evanston's citizens can now be sure that they're safe in their day to day activities of dropping their children off at private schools and shoveling snow every hour, on the hour" said Evanston Mayor Steve Hagerty in a statement released for the press.
The crime spree of "The Mouse" will forever be immortalized in Evanston's 2018 "summer of mild uncomfort" where hundreds of Facebook mom posts were made about the criminal, and a curfew was imposed to keep Evanstonians out of harm's way, both from Bilderson and also the skunks.
However, the story of "The Mouse" seems to have come to its final chapter. NUPD is currently holding Mr. Bilderson in Evanston's most secure jail facility, an unoccupied apartment above Collectivo. His bail is set at $500, or a third of the price for an Evanston studio.
* Bilderson was named the "The Mouse" because he loved his cheese