Second Paper Cut of the Week Triggers Student's Long-Awaited Mental Breakdown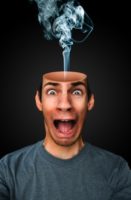 Sources confirmed Friday that area sophomore Harris Goetz had suffered a mental breakdown following his second paper cut of the week. The report confirmed rumors that had circulated since Goetz was discovered sobbing in a Locy bathroom while trying to stem his virtually nonexistent blood loss.
Goetz's friends believe that his response to the paper cut may have been symptomatic of a larger problem. "He's been on edge for a few weeks," said Margaret Schultz, a fellow sophomore. "Any mention of his classes, extracurriculars, apartment search, or pretty much anything else and his eyes bug out. Basically, if you bring up anything except the weather he'll start shaking uncontrollably."
Goetz, for his part, says otherwise. Lying face-first on the floor of his dorm lounge, when asked if he might be struggling with stress, he told reporters "It's fine, I'm fine. The paper cuts were just bad," (sources close to Goetz later confirmed that the paper cuts were actually "not that bad.") Goetz went on to assert that he was "enjoying taking six classes" and was "really not feeling that challenged," as he pulled clumps of hair off his scalp.
When reached for comment, CAPS staff suggested that, although Goetz seemed to be struggling, "getting some exercise" and "avoiding paper" was all that was necessary to improve his mental health.