Local Woman Sets Bar for Romantic Partner On Ground; Local Man Starts Digging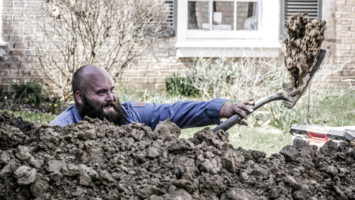 Area woman Andrea Ruiz, after roughly five years of romantic failures, has finally given up and placed her standard for male romantic partners on the ground. In a related effort, area man Miles Abernathy has begun digging.
Said Abernathy of his decision to subvert Ruiz's already miniscule expectations for his behavior, "Y'know, I saw that she wanted me to treat her with a modicum of respect, and I was like, woah bitch, you're kinda asking a lot. Crazy much?"
Andrea Ruiz is one of many young heterosexual women who is seemingly stuck in an endless cycle of pain and disappointment with the opposite sex. Her friends, who are even more mad at Abernathy than Ruiz herself is, speculated on the underlying causes of Ruiz's romantic failures.
"I don't wanna say daddy issues, but, like, daddy issues," best friend Grace Lorens stated, "clearly Andrea has unresolved insecurities with men and I guess guys like Miles can smell the insecurity on her."
After further investigation into Ruiz's love life, Flipside reporters felt "uncomfortably exposed" and "read." One anonymous reporter stated, "I didn't know that anyone else was willing to completely disregard their own self-worth in order to please a man who has no passions or drive."
Initially intended to be a deep dive into contemporary dating standards, this article is now being cut short because it's honestly getting a little too real.