Scarlett Johansson Becomes First Asian Woman To Be Nominated For Two Academy Awards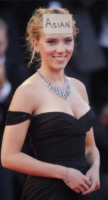 Over the past few years, the Oscars have frequently come under fire for recognizing mostly white male filmmakers and actors while ignoring many talented women and people of color. However, in a groundbreaking turn of events, Scarlett Johansson has become the first Asian woman to be nominated not once, but twice, for an Academy Award in the same year. Only eight other actresses have achieved a double nomination, but Scarlett Johansson stands to be the first from the Asian community.
Johansson, who was nominated for her work in Marriage Story (Best Actress) and Jojo Rabbit (Best Supporting Actress) has expressed her pride at being such a positive role model for Asian people all over the United States. "I say this in the humblest way possible, but I feel like it's not an overstatement to say that I'm probably the most prominent Asian actress in the film industry right now," Johansson explained. "I mean, I was number one of Forbes's list of the highest paid actresses of 2019 – and the only Asian person on that list. Clearly, there's a bias against my people in Hollywood. As someone in a privileged position, I encourage Hollywood to fight for those underrepresented groups by giving them the roles they deserve."
When asked how she planned to help open the door for Asian actors, Johansson paused for a moment before solemnly stating, "Well, I'll simply take every role that comes my way. As a proud member of a minority group, I feel like it's my duty to act in as many movies as I can. That way, even if I end up being the only Asian actress in Hollywood, the rest of my people can feel represented by me. Just imagine a little Asian girl watching [my upcoming film] Black Widow in the theater and seeing someone who looks just like her onscreen. I can't think of a better way to deconstruct Eurocentric beauty standards."
At press time, rumors were circulating that Johansson is not only female and Asian, but also possibly a tree. None of these rumors have been confirmed.