Morty and ROTC to Unveil New "Hands-On" Study Abroad Program in Iran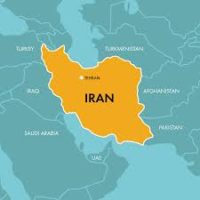 As a surprise for the 2022 class of Wildcats, Morty has partnered with ROTC to unveil a new study abroad program in Iran. The program promises to be an exciting foray into the wild, offering endless opportunities to gain "hands on practical experience" and learn about "mental and physical trauma".
In his address to a group of excited McCormick students, Morty promised opportunities to work alongside storied companies like Lockheed Martin and Raytheon on special "projects". He even mentioned that economics students would be contractually obligated to work at the renown investment firm Blackrock's sister organization, Blackwater.
But before getting the chance to be shipped off to Iran, applicants are reportedly required to complete a series of preliminary evaluations. As per Northwestern's website, applicants will need "the ability to work well in groups", "an excellent work ethic", "physical and mental stamina", and, for some reason, "killer instinct". Candidates are also required to have 20/20 vision, and be able to complete a stringent physical aptitude test developed by the Golf Team.
These conditions are strange, but do make sense–After the wildly unsuccessful "Bay of Pigs Internship Program", it's only natural that administration is tightening their application requirements. Students everywhere are excited by the prospect of studying in a foreign country.
"I'm so glad that the administration is sponsoring trips to the Middle East," said one anonymous responder, "the folks at the Study Abroad program are really nice about trying to get me to Iran–it's a much better recruitment process than the other one I found on the dark web. And this way, I don't even have to renounce my nation!"
The program is said to offer "excellent, definitely not minimal compensation" to entince increased participation. Morty himself commented on these features, stating that those who sign up will be rewarded with "enough money to spend on something fun, like a Dodge Charger, or a few bitcoin, or half a quarter's tuition at Northwestern."
But Morty also had a message for prospective candidates regarding their future after returning from Iran. "Just remember: as soon as you come back, we stop caring about you!"