Tiktokers Everywhere Mourn Eddie Van Halen's Death by Googling "Who is Eddie Van Halen"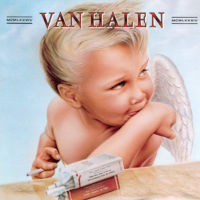 On Tuesday evening, Eddie Van Halen's son announced his father's death to the world via a heartfelt Instagram post. Several hours later, the news (accompanied by a trendy dance) made its way to Tiktok, where it was completely ignored.
The Flipside reached out to several popular Tiktokers for comment, who, unaware of Van Halen's fame, reached out to their followers for information on the singer. This started a trend of what analysts are calling the fourth-largest increase in google searches on a living thing following their death (behind Harambe, a Justin Bieber hoax and the fly on Pence's head).
Thousands of users posted screen-captures of themselves scrolling through google search results accompanied by sad tunes or some of Van Halen's greatest hits. POV-style videos of users asking their parents and grandparents about Van Halen became popular. Google searches for "Is Van Halen really that old?" and "When did Van Halen stop being cool?" also skyrocketed in popularity.
"Jump", perhaps his band's most famous song, soared into the US Top 40 that evening as more and more users picked up the trend. Almost immediately, the song plunged back out of the top 40 after a "this you?" gotcha post accusing the song's lyrics of promoting suicide started a wave of negative posts canceling Eddie Van Halen.
Asked for her thoughts on this stunning reversal, Addison Rae said "Who?". Users quickly adapted to this and started posting videos of themselves deleting any search history mentioning Van Halen.
Ultimately, another "this you?" post called out the original gotcha post as misleading, prompting Tiktokers to become fans for Van Halen again and resume googling his name. When asked for comment, the premier Van Halen fan group Stan Halen released a statement saying "We don't know what exactly Tiktok is, but Eddie always loved his watches,".