Woah! Therapist Shares Tidbit of Personal Information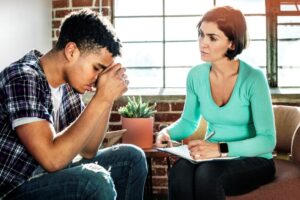 2020 has come with more than its fair share of surprises. But nothing could have prepared Weinberg sophomore Mollie Medford for last Tuesday when, during a Zoom therapy meeting, her therapist casually shared a piece of personal information.
"We were talking about ways to de-stress, and she said that she likes to ride her bike on the trail at the lake on Saturday mornings," Medford said. "I mean, what? Can you imagine her riding a bike? That'd be like seeing your stats professor hitting a fat blunt in a Wendy's parking lot. It just doesn't click."
Until this appointment, Medford's therapist had never revealed anything about her personal life. "I mean, she wears the same five plain sweaters, the same coffee mug, and the same nondescript reading glasses with a chain," said Medford, while scrolling frantically through the Calm app to find the Harry Styles meditations. "Even her Zoom background is just that virtual background of the Golden Gate Bridge! She was an enigma. I miss it."
Medford has not scheduled another appointment since discovering her therapist is a regular person with hobbies. In fact, this realization is reportedly causing her even more stress. "It's just terrifying, thinking of her like that," she said. "Before, she was just my therapist. But now that she's, like, a real person with actual thoughts and opinions, it makes me anxious. Like, does she even like me? Does she think my voice is annoying? Does SHE have a therapist?!"
Medford has now taken to talking to her Alexa about her issues. She says the consistency — and lack of physical form — seem to be helping.