CW Announces Revamp of "Marmaduke" as Sexy Teen Drama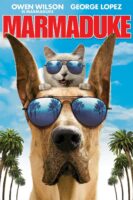 Producers announced Monday that, given the runaway success of Riverdale's interpretation of the Archiecomics, the CW has approved a similarly raunchy (yet kooky) take on Brad Anderson's "Marmaduke." Though the original "Marmaduke" follows the mishaps of the great dane in a family-friendly tone, CW executives are confident that the network can take it in a fresher, sexier direction, for which no one asked.
"'Riverdale' was a watershed moment for us," gushed showrunner and avid shroom-sampler David D'Daug. "We quickly learned that adhering to the base material doesn't matter at all. People just want to see soft porn crossed with a murder mystery. And that's what we'll give them!"
Upon inquiry about whether achieving said 'soft porn' with a canine protagonist was inappropriate, D'Daug quickly excused himself to "anywhere else."
Rumors indicate TikTok's resident human vape pen Lil Huddy is auditioning to play a heavily CGI'd and jacked Marmaduke, while Jojo Siwa has already been cast in a guest arc as Dennis the Menace. Upon hearing that the same "Riverdale" team would be handling all writing and production, the entire writers' room fell to the floor and immediately burst into tears.