Biden Rejects Student Loan Forgiveness Plan, Salty Because He Just Finished Paying His Student Loans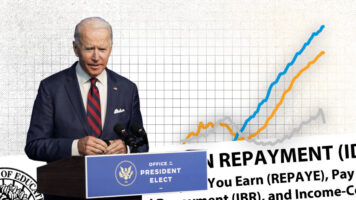 Last week, President Joe Biden rejected a student loan forgiveness plan, disappointing college students everywhere. It was later revealed that Biden had just finished paying off his own student loans that same morning, which strongly influenced his decision on the matter.
"How could I let all of these other students off the hook when I spent so much time paying off my loans? Heck, that's why I'm so gray for such a young guy!" Biden said with a chuckle. Sources say he has been paying his student loans over the past ninety seven years—almost half of his entire life.
After getting his bachelor's degree in straight chilling from Barack Obama University, Biden began working a minimum wage job at Sunglass Hut. "I worked really hard to pay off my loans. A lot of blood, sweat, and sexy went into the process," Biden explained, holding up the infamous young Joe photo everyone knows and loves.
For decades, Biden has been spotted working weekends at Sunglass Hut, presumably to pick up some extra cash. It is unclear whether or not he will continue working now that his loans are paid off.
When asked how he planned to celebrate paying off his loans, Biden indicated that he wanted to "spend more time with my dogs, as well as my dawgs. Oh, and I want everyone else to pay off their student loans too, obviously." He then put on a pair of enormous aviators and strolled away.