3 Ghosts Visiting You This Christmas Eve Would LOVE It If You Could Fill Out This Really Quick Psych Survey on Your Drinking Habits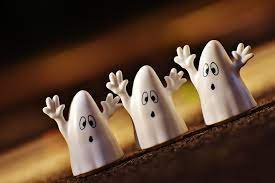 Winter break is around the corner and with it usually comes the promise of a brief moment of peace in the classwide GroupMe. But if you thought the slew of "fill out this survey!", "answer these quick questions", "tell me about your deep-seated traumas and insecurities", would finally end don't get too comfortable. The paranormal need to sample your drinking tendencies doesn't care for your school's non-denominational winter break one bit.
These apparitions appear to you when you least expect them. One minute you're putting presents under the Christmas tree then BAM, the ghost of a McCormick student "who desperately needs responses to a survey for their DTC group by tomorrow morning" appears. They're even willing to throw in a free blaze pizza – enticing. When this happens, and it will, ward them off with stories of actual choice in course registration and the promise of free time on weekends AND during the week. Despite the fact that they are deceased, they're still in McCormick and will be confused and disoriented by this information.
Remember to check over your shoulder while putting out those cookies for Santa. Don't be fooled if a spirit approaches you to check out their Kellogg survey for a 1 in 5 million chance of winning a 25-cent amazon gift card, begs you to listen to their new song, or asks you to rush something called Sherman Ave?? If they appear at the foot of your bed asking if you've seen the wildcard they dropped into the waves of Lake Michigan or specifically their left Airpod that they tossed onto Sheridan, run but know you can never truly escape.