Final Women's History Month Announced for 2023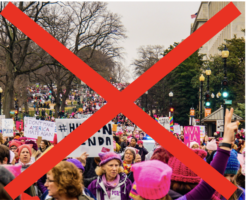 This past Thursday, a loud, booming voice announced to the World that there would be no more Women's History Months after 2023. No one presently knows the identity of the mysterious announcer, but people have chosen to take the message seriously.
The UN Security Council said they believe that March will continue to occur as long as time does, but there will never again be a Women's History Month. They have not announced the source of their confidence.
In response to the loss of the celebration of women's contributions to the world, the National Women's Rights Convention is holding an emergency reconvention at Seneca Falls to plan one last hurrah for next March. Sources say the color pink will be involved, lest they are defeated by the Susan G Komen Foundation who has reportedly already filed a lawsuit.
There have also been various movements to decide what should replace these lost Women's History Months. Polling aggregate and news site Buzzfeed is the current battleground for the decision. According to the website, the current leading options are Free Dairy Queen Cone Month, Pride Month 2, Grandparents' Month, and Monthy McMonthface.
Of course, we will have to wait to see if the booming voice in the sky has any further announcements. For now, this intrepid reporter is praying for a March of free soft serve.