Hairball in the Communal Shower to Lead Conference on Diversity, Equity and Inclusion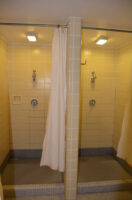 Northwestern's First Annual Communal Shower Conference on Diversity, Equity and Inclusion is expected to take place at the end of the month. After intense debate, the keynote speaker was finally announced: a single hairball will be plucked from a lucky dormitory shower and given a platform.
Which hairball will lead this inaugural conference, one of momentous consequence, is in the hands of the janitors. Why is a hairball the right object to take on this leadership role? Nothing is more diverse than the amalgamation of head, leg, arm, armpit and pubic hair that forms a hairball in the communal showers, inside sources told The Northwestern Flipside. Not to mention, the variety of colors and textures.
"The result is sorta beautiful," one anonymous janitor noted.
After an excruciating selection process conducted by the janitorial staff at Northwestern University, three front-runners remained: the curly, tennis-ball sized hairball from Elder, the slightly smaller ginger pubes from Bobb, and the pin-straight blonde hairball in FIJI's basement toilet. The janitors were force fed dining hall melon and sunbutter toast to keep them alert and capable of sound decision-making.
One committee member spent 69 hours weighing the pros and cons, and literally weighing the hairballs themselves, to determine the leader of the conference. When asked for comment, he said, "Golly gee!", then dissolved into wet coughs.
Alas, a winner finally emerged; hailing from the all-gender restroom of Elder's second floor is "Dark Vader" the brunette curly hairball. The hair is suspected to come mostly from Brad Toupee, a first-year resident and university wrestler.
"Did you just say balls? Haha. Balls," said Toupee, when asked about the hairball's impact on his life.
"I plan to use the locks of hair to create a crochet airplane for my upcoming robotics competition," says McCormick student and floor RA Albert Combover. Albert was not actually interviewed but was instead found stroking the hairball for leisure and decided, nonetheless, to provide his commentary for this article.