White Person at Costa Rican Restaurant Really Going for Broke on Spanish Pronunciations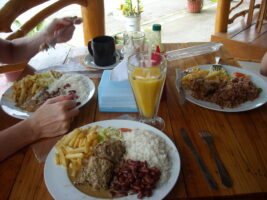 Chicagoan Jackson Johnson was seen Thursday night taking some real frigging swings pronouncing dishes at Taqueria de San Josè, a local restaurant specializing in Costa Rican cuisine.
Johnson, a professional juggler and amateur veterinarian, requested "goockamull with chips" immediately after greeting his server with an "aloha". He inquired if the restaurant sold "churrithzo," and described it as "that spicy meat thing in Starbucks sandwiches." Johnson enthusiastically described the restaurant as "authentic Latincks cuisine" to his friends.
Johnson's friends were "horrified" to hear his butchering of the Spanish language. "Has he never been in a Latine restaurant before?" his friend and roommate Dilbert Smith wondered aloud. "My biggest exposure to Spanish was watching Dora the Explorer, and even I know it's pronounced 'arroz,' not 'a-raw-zee.'"
Restauranteur and owner Carmen Mora was equally concerned. "I didn't know someone could put that many syllables into the words gallo pinto. Next time, he's getting a plate of football stadium nachos with extra ketchup: that usually keeps these types happy."
At time of publication, Johnson was last seen in a Korean restaurant where confidently ordering a heaping plate of "bullgoggy."