"You want a what?" Tappa Tappa Keg Brother Fails to Serve "Negroni, Sbagliato, with Prosecco in it"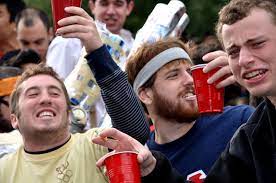 Confused. Disturbed. Upset.
These are how people felt after the incident this week at the TTK darty.
Following the event last Saturday at TTK, several brothers are under fire for their poor bartending abilities after being unable to serve the "drink of choice" of several attendees. Though the Panhellenic Council has asked for an apology, TTK has failed to issue a statement.
Grant Liepzig, the brother manning the keg, stands by his tending-performance. More focused on "bringing good vibes" than "figuring out whatever the hell a Negroni is", Liepzig felt unprepared for the mass of requests that he received.
"They just gave me beer," Liepzig said. "They told me 'If people want a drink, give them a beer.'" I think that I followed through on that the best that I could. I didn't come into this with that kind of expectation."
Other ZBT brothers backed up Liepzig's story, indicating they were confused as to what "Sbagliato" meant and why people were asking for one in a yard in Evanston before noon had even hit.
Fellow ZBT brother encouraged people to "get over themselves" and just "move on".
"There are real problems in the world" Flanders said. "There are like, football games being lost right now. I feel like people should worry more about that."
Neither Liepzig nor Flanders identify as gay or have seen House of Dragons.