It's that time of year! Bolsonaro supporters and new pledges reflect on shared experience of 'rushing season'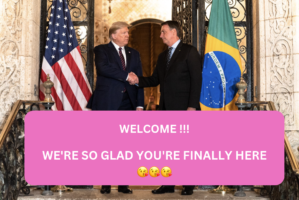 On the morning of January 8, supporters of former President Jair Bolsonaro engaged in an organized attack on the Brazilian capitol in a destructive charge following the election of Luiz Lula. But fans of right-wing Bolsonaro aren't the only ones rushing. For prospective new members of Northwestern University's Greek life, January is also the so-called "rush season."
Dani Sandro, a long-time fan of Bolsonaro's right-wing politics and stormer of the Brazilian capitol, has reported finding great comfort in his capacity for shared experience with Northwestern students.
"For all of the students rushing, it's all about 'being in the house where you belong' and 'finding the house where you're going to fit in,'" Sandro explained. "That is what this is about too. The presidential Palacio de Alvadora is not the right house for Lula."
However, several students at Northwestern have taken issue with this comparison. Elise Cablett, Recruitment Chair of Kappa Kappa Psi, wasn't too pleased with Sandro's remarks.
"I understand that neither process is exactly democratic", Cablett commented. "However, I really don't think that this is a fair comparison, and frankly, I find it insulting. If I were to rank Sandro out of 10, I'd give him a 0, even if he had a connection."
U.S. President Joe Biden's public statement called the event "an assault on democracy and on the peaceful transfer of power." Upon further questioning, it was confirmed he was referring to Kappa Kappa Psi's practice of "dirty rushing."