Penguins of Madagascar Arrested on RICO Charges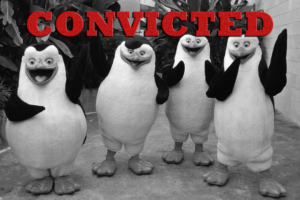 Smiling and waving no more: Central Park Zoo's famous squad was arrested in Manhattan last weekend on racketeering charges. Residents looked on in shock as a SWAT team raided the ice cave belonging to Skipper (26), Kowalski (32), Private (21), and Rico (DOB disputed).
"Is this some sort of Narcos thing?" Gloria the hippopotamus, whose enclosure looks out on the penguins' ice cave, asked. "You can't prove I ever knew them. I better not see my face in the New York Post."
"This is bullshit," Moto Moto, another hippopotamus, declared. "Moto Moto does not like the FBI."
Though the Penguins' trial date has yet to be scheduled, initial investigations are now revealing that the Penguins were involved in numerous illicit schemes. A source close to the DA's office stated that in a pre-interview, Private confessed to extensive involvement in the sardine industry, manufacturing unregulated product and cutting oils with low-quality ingredients.
The Penguins are also accused of money laundering, tax evasion, and production and distribution for one of the biggest cocaine empires in New York history.
"I guess that was the other kind of snow in their enclosure," Alex the Lion joked.
"I am disgusted that the Penguins of Madagascar behaved this way. It is a stain upon the rule of King Julian," the lemur and ruler proclaimed in a tell-all interview. When asked what the white dust on his face was, King Julian accused reporters of "trying to make this into the next Watergate" and asserted that he "is not a crook."
Whether drugs, money, or sardines, the Penguins certainly won't be able to move it move it now.