Director Christopher Nolan Releases 5th Chinese Spy Balloon in Order to Create a World War III Film Without CGI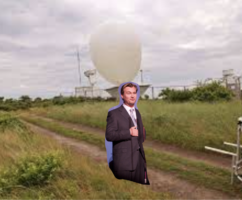 In recent weeks, several flying objects have been spotted over the United States and identified as Chinese spy balloons. These balloons have raised fears about a possible war with China, and in the midst of these fears director Christopher Nolan has decided to release a fifth spy balloon in order to create a World War III film without any CGI.
Famed Inception director Christopher Nolan has made his thoughts on CGI clear after detonating a nuke to win a dick measuring contest with Michael Bay and to create a perfect shot for his film Oppenheimer. For his upcoming film, Nolan hopes to create a realistic World War III setting without the hassle of talking with "those dweebs and their computers." Nolan is also on record as saying "If the Americans don't go for this whole weather balloon trap, I've got a big thing cooking in the Baltic."
Nolan said that the new movie will "be 3 hours long, feature Cillian Murphy, and require 6 rewatches just to grasp the plot."
Mr. Nolan refused to comment further after he glimpsed a reporter's Marvel shirt and began foaming at the mouth while ranting about the integrity of cinema and practical effects. After retreating to a safe distance, Flipside writers observed the British director launching two more balloons and a scorpion missile in hopes of accelerating his production process.