Insomniac Students Mistaken for Raccoons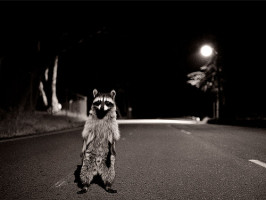 EVANSTON — Since the beginning of Fall classes, students have reported to the Evanston Animal Control Bureau an alarming increase in the number of large, nocturnal creatures wandering around campus. Many students, aware of the abundance of wildlife in the area, have shrugged these unidentifiable fiends off as raccoons, due to the black circles around the creatures' eyes.
Most witnesses report the raccoons meandering near the library or rolling down the stairs of Tech, leaving trails of graphing paper all the way to Slivka. When students were asked if this particular affinity for graphing paper was strange for raccoons, they merely stated, "Maybe they like the taste of graphing paper because the squares are like mini waffles."
Further investigation has revealed the identity of these figures as insomniac engineers trekking the campus after a long night of work. This finding, however, has only caused the case of mistaken identities to worsen. Josh Talley, a Bienen sophomore returning from The Keg on Monday night, reportedly witnessed a freshman engineer roaming the campus: "He was wearing a striped sweater and had massive dark circles around his eyes. Poor guy, he seemed to be graying too." The freshman was later discovered to be an actual raccoon.
This raccoon-engineer mix-up has resulted in serious ramifications for both freshmen and the animal protection community. Freshmen who entered with an undecided major are now opting to choose any major other than engineering. "I've always wanted to be a dinosaur, not a raccoon," says Gemmy Burns, Weinberg freshman. Meanwhile, the Association for the Protection of Raccoons (APR) will speaking at the Rock next Monday about how the raccoon community is offended by being mistaken for engineers.
Other students have reported a large increase in annoying insects buzzing through campus, but a report by the EACB announced that these are just theater majors.