"Joe the Plumber" Launches Presidential Bid; Rick Perry Still Dumbest GOP Candidate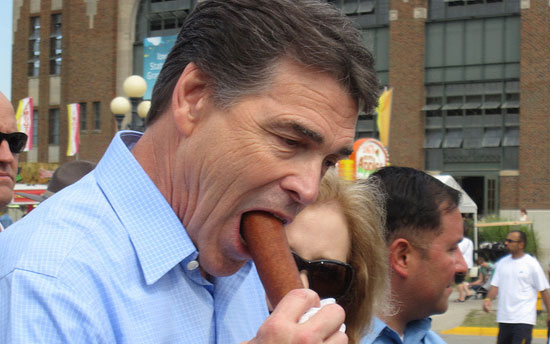 TOLEDO, OH – Samuel Joseph Wurzelbacher, better known as "Joe the Plumber," unexpectedly announced Thursday his plans to challenge Obama in the 2012 presidential election.
John McCain and Sarah Palin used "Joe the Plumber" as a metaphor for the middle class in the 2008 presidential election, so Wurzelbacher already enjoys nationwide name recognition. His platform focuses entirely on bad plumbing puns and one promise: "They're not going to catch me in a lie."
One political commentator pointed out that an unlicensed plumber trying to pass himself off as a pseudo-intellectual with the skills necessary to run the government seemed rooted in foolishness.
"The system in Washington is a toilet clogged by a massive shit," Wurzelbacher responded. "I'm bringing the plunger. I'm bringing the Drano."
But perhaps the most shocking revelation is that Rick Perry is still the dumbest Republican candidate.
Perry's transcripts from his alma mater, Texas A&M, have surfaced—he received a slew of Cs and Ds, including a C in gym and a D in principles of economics.
To help hone his razor-sharp debating skills, Perry requested a challenge of hardline rhetoric with Wurzelbacher in the most valid forum of political machismo: the WWE Championship.
Perry—"The Texecutor" in the ring—is already generating excitement among wrestling fans with his utterly incomprehensible tough-guy talk.
"Do you smell what the Texecutor is cookin'?" Perry asked. "Well it ain't a last meal, 'cause we don't do that in Texas no more."
Wurzelbacher—"The Plummeler"—has yet to respond. He reportedly seemed bewildered that anyone would challenge him to a fight in his favorite arena.
Meanwhile, Donald Trump is voicing yet another concern about "Joe the Plumber." "Wurzelbacher? What kinda foreign name is that? I demand to see a birth certificate!"