Construction Begins To Convert Tech Into Ski Slope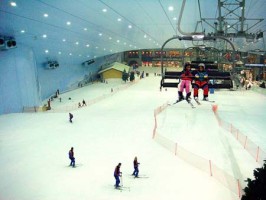 EVANSTON – University president Morton Schapiro has revealed plans to build a gigantic indoor ski slope on the property currently occupied by the engineering school building.  Known to students as "Tech," the multi-billion-dollar facilities that make up the complex will be replaced by a snowy mountain resort for the students' leisure.  According to Schapiro, landscaping crews will make room for the winter-themed amusement park by relocating the Robert R. McCormick School for Engineering, the Ford Design Center, and the Northwestern Institute of Technology.  In their place will be a brand new recreation facility that includes four ski slopes, a snowboarding park, and a heated ski lodge that sells hot cocoa.
"I think that opening the campus skating rink went well, but it just wasn't enough," said Schapiro in an interview with the press.  "I spoke with several prominent members of Evanston's community, and we decided that the best solution was to allow Northwestern's students to ski potentially every day of winter quarter."  He intends for the ski lodge to be open to undergraduates, who can get free entry by showing their Wildcard or student ID number.
Although he hasn't provided an explanation as to how the project will be built, Schapiro mentioned that members of the school's esteemed engineering faculty have consolidated designs for the project, which requires the destruction of their offices and expensive scientific equipment.
President Schapiro announced that construction is already underway, and the ski slopes should be completed and fully operational by 2012.