Northwestern Trades Morty to Egypt for Mubarak and 2nd Round Pick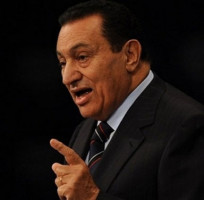 Looking to give its team a spark before the 2012 US News and World Report Tournament, Northwestern has traded President Morty Shapiro to Egypt for President Hosni Mubarak and a 2nd-round pick in this year's draft. There are reports of cash considerations being included in Egypt's package to NU as well.
Since Morty arrived in 2009, Northwestern has made the tournament in each of his two years at the school but has yet to advance past the first round. Last year as a 12 seed, Northwestern faced off against Stanford (#5) and lost 92-89. "While we appreciate the progress Morty has made in getting us into the tournament, we felt we needed to go in a different direction," said President of the Board Bill Buckingham. "We are excited to bring in a proven leader and winner in Hosni to take us to the top."
Mubarak has presided over Egypt for the past 30 years and has won four ACC titles (African Country Championships). He is known as a no-nonsense leader who will ensure that everyone is pulling his weight, or else. "We had been having preliminary discussions about this for a while with the Egyptians," Buckingham said. "They were only willing to do the deal straight up, one for one, for weeks. But today they call and are willing to throw in a second round pick and cash. Strange." There are rumors that NU will use its second round pick to improve its Student Affairs department which was one of the worst in the league this year.
The former Egyptian president is well known for his stingy "Emergency Law" defense which stifles the opposition. As a result, Northwestern's leadership is confident that the university will perform much better under Mubarak. NU will ease the president into his new role with matchups against "cupcakes" Wisconsin and Iowa. But the competition gets much tougher in the tournament. "We have all the confidence in the world in Hosni," Buckingham said. "As we all know, defense wins championships."