Rex Ryan Eats Words, Adds Salt and Butter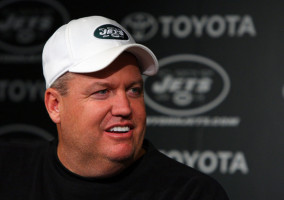 NEW YORK – Rex Ryan, the controversial head coach of the NFL's New York Jets, showed a flash of humility last Sunday when he decided to finally eat his words and recant on promises for a championship season. In an exclusive interview with The Flipside, Ryan tucked his napkin into his shirt and began to chow down.
"I'm the one to blame here," Ryan said between mouthfuls. Criticism from the local media arose when, once the Jets' playoff hopes were finished, Ryan opened the spice cabinet and brought out some salt and butter.
Gang Green's season was officially over with a loss to the Miami Dolphins in week seventeen. "I've tasted da feet…I mean, defeat, before…but this was a tough one to swallow," the coach remarked. "They…I mean, it…left a pretty bitter taste in my mouth."
At one point in their 2011 campaign, the Jets were 8-5 and on the cusp of being one of the NFL's elite. Unfortunately for them, Ryan was on that cusp with them, and it subsequently cracked and collapsed.
Some members of the New York faithful are even blaming Ryan for throwing in the towel before the Jets were out of contention. Ryan, however, asserts he did not throw in the towel, brandishing a barbeque-and-ketchup stained napkin as he chewed his salted words: "I have it right here. Clearly not thrown in."
"Once again, I apologize for letting down my team and the fans," concluded Rex as he stuffed his face with three years' worth of words. The Jets will look to wrestle their way out of adversity next year with a big 2012 season. With the 1,500 pound Ryan on their side, it's tough to imagine them losing.