Obama-Bloomberg Friendship on the Rocks after Tepid Endorsement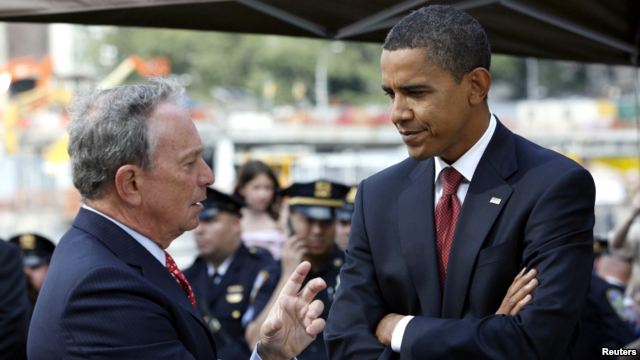 NEW YORK CITY — New York Mayor Michael Bloomberg publically endorsed President Obama last Thursday, saying the effects of Hurricane Sandy reshaped his thinking of the presidential campaign. While many Democrats welcomed the New York mayor's support, Obama was less than enthusiastic about the statement. The implication that Bloomberg was previously unsure of his vote, or even possibly considering to vote for the Romney/Ryan ticket, definitely shook their friendship to its very core.
An inside source told The Flipside, "Barack is quite upset about Mike's comments. He thought that they were really close friends, even bros. The fact that Mike's decision came down to global warming and not Barack's awesome basketball stories is very disappointing to the President." The President's emotions have affected his campaign. A campaign staffer who wished to remain anonymous revealed, "Barack toured New Jersey with Governor Chris Christie to make Bloomberg jealous. He wanted to appear all buddy-buddy with Chris, just to show the mayor that he doesn't need him."
Although Bloomberg did not publicly endorse a candidate in 2008, the President believed that his friend would wholeheartedly support him. Bloomberg's additional comment, that Obama has "engaged in partisan attacks and embraced a divisive populist agenda focused on redistributing income rather than creating it," definitely was a blow to their relationship. The President took it personally.
Barack's subsequent erratic behavior has been trying on his staff and supporters. With the election finally at a close, his campaign advisers are hoping that he can pull it together. Even though they removed all of the Ben & Jerry's from the campaign bus, they have still been finding candy wrappers and empty Doritos bags. The staffer revealed in an exclusive interview that Barack is "…taking it really hard. We told him that it's not a big deal, that Mayor Bloomberg is just the mayor of only one city in the country, but he won't listen to us."
Governor Christie, in response, said that he would do anything for his new pal. "If Mike fucks with Barack again," claimed Christie, "I'll eat him."