Big Ten Looks to be Even Shittier with Addition of Rutgers, Maryland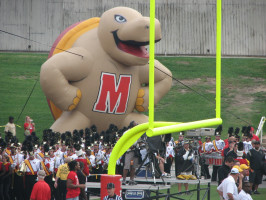 PARK RIDGE, IL — Over the past several weeks, the Big Ten conference conducted talks with perennial bottom dwellers Rutgers University and the University of Maryland about adding them to the conference and making a 14-team league. This week, negotiations have concluded, and both Maryland and Rutgers will be joining the conference by 2014.
"Big Ten football teams did a great job of fucking up this year by losing to almost every non-conference opponent we played, but it's not enough," said Big Ten commissioner Jim Delany. "Ohio State will be able to go to a bowl game next year, Michigan and Northwestern are on the rise, and we really want Rutgers and Maryland in there to balance the conference out and maintain our trademarked shittiness going forward."
Rutgers is enjoying a largely successful year, having won nine games already and consistently ranking in the top 25. Delany and the rest of the Big Ten are not worried, however, citing Rutgers's embarrassing lost to Kent State and the fact that they are in the Big East, the very conference Delany strives to be like one day.
Maryland, on the other hand, is really looking like they belong in the Big Ten, going 4-7 on the year so far in the almost as weak ACC. After losing five in a row, the Big Ten had seen enough and immediately made them an offer to join as team #13.
"Sure, we were bad this year, but we're not even close to what the Big East and ACC have achieved," said Delany. "In hindsight, the Nebraska move was a bad idea. Michigan and Wisconsin are complaining that it adds another unnecessary hard game to their schedules. And we don't want that.
He continued, "We like our top-tier teams to enjoy an easy 30 to 40 point win at least every other week. All I have to say is thank god for Illinois."
At press time, the Big Ten was considering offering conference spots to South Dakota and Eastern Illinois to "further broaden [their] fan base."