[NU Spork] NU Cuisine Announces "Palestine Recognition" Meal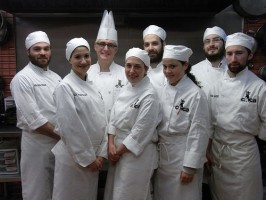 EVANSTON — Continuing their long tradition of commemorating every ethnic event with a mildly offensive meal, NU Cuisine announced that Allison Hall will have a Palestine-themed meal to celebrate their recent recognition by the UN. The decision has caused some division among students.
The Kosher station will rightfully become a Palestine station, according to Sodexo. Food will include Gaza chicken strips, cease-fire grilled burgers, and hummus on everything. NU Cuisine will divide Allison into three quadrants: the Israeli main room, the West Bank Public Affairs Residential College room, and the Gaza Strip Shepard Residential College room. CAs will patrol the entrances to each room.
"We are thrilled NU Cuisine recognizes Palestine as a legitimate state," says Hooman Shams, president of Students for Justice in Palestine. "It moves us just as close to statehood as does recognition by the UN."
But on this slightly Jewish campus, not everybody is pleased by the Palestine meal.
"We think having this Palestine dinner is as illegitimate as the meat Sodexo serves on Taco Tuesday's," says Zach Goldstein, treasurer of NU Chabad. "I just don't see how it's safe when the West Bank P.A.R.C. room is sending spitballs into our crowded tables."
"We were in Allison first," Goldstein added.
Palestinian Authority President Mahmoud Abbas and UN Secretary General Ban Ki-moon have both come out in favor of the NU Cuisine Palestine meal. In a memo to Northwestern students, Abbas wrote, "We just hope that a peace agreement with Israel doesn't take as long as it took Frontera Fresco to open."