[NU Spork] Norbucks' Barista Training Faces Criticism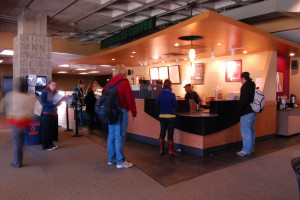 EVANSTON — The Starbucks in Norris Student Center, popularly known as "Norbucks," recently announced it is now hiring new baristas; the training program is slated to last from now until forever. In efforts to employ more students, Norbucks will continue to hire inexperienced applicants and provide them with valuable job skills such as defrosting pound cake and differentiating between tall and small.
The program is under criticism from various sororities, such as Quad-Delt, whose chapter president said Norbucks' poor customer service does not live up to the chapter's value of smiling every waking second of the day.
However, Norbucks Manager Penelope Jones offered a quick rebuttal. "The job is great experience for our employees, and thankfully our customers are so addicted to caffeine that they're willing to be patient. We're working hard every day on new skills, such as steaming milk for multiple drinks at the same time."
Recent promotional holiday drinks, such as Pumpkin Spice Lattes and Salted Caramel Mochas, have increased the already large demand for Norbucks' products. Nevertheless, Jones said that while the training program may cause delays in the short run, eventually it will lead to faster service. Her prediction so far is proving true, as Monday there was a line headed past the Norris Information Desk, snaking downstairs to the surprisingly open Frontera Fresco where one confused SESP student was wandering around looking for crepes.
Current barista-in-training Julie Evans said, "We know that Norbucks doesn't have everything. We don't have a Sodexo employee that says, "Hey, hey, heyyy!" every time she swipes your Wildcard. We don't have the classic rock music at Hinman. We don't even have a foreign sounding name like Fran's. What we do have is sometimes-warm chai tea and occasionally even whipped cream."
When asked about her customer reactions' to her constant confusion with the register, Evans responded, "We're working really hard to give students their daily dose of skinny vanilla lattes, even if it means they are forced to read The Fighting Methodist while they wait in line."