North West Admitted into Northwestern Class of 2035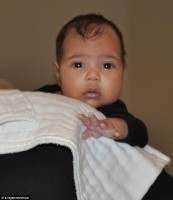 EVANSTON — Christopher Watson, Dean of Undergraduate Admissions at Northwestern University, held a press conference to offer North West admission into the Northwestern University Class of 2035 in an unprecedented "super-duper-early-decision." West is the four-month-old daughter of renowned artists Kanye West and Kim Kardashian.
"Ms. West," said Watson, "I'd like to be the first to congratulate you on your admission into Northwestern University's class of 2035, which will have an estimated 0.43% acceptance rate. Congratulations on achieving so much at such a young age."
The offer comes with a full-ride scholarship to Northwestern University, which is projected to charge tuition of over $200,000 a year by the time of West's possible matriculation in 2031.
"You may not have usual documentation such as a GPA, a standardized test score, or any essays at all, but I think that we both know that we wouldn't be looking at those regardless of when you applied," Watson said to West, who does not comprehend any sort of language or abstract thought, and lacks the capability to create permanent memories.
"Northwestern University is proud to host some of the most renowned and capable professors in the world, many of whom will certainly be dead by the time of your matriculation. However, I'm sure that we'll have some cool new professors at that point, and maybe we'll even be done with construction," said Watson.
Watson concluded his remarks by referencing famous Northwestern alumni, saying that "an individual born into celebrity like you will be right at home here, this being the Alma Mater of Steven Colbert, the Scrubs dude, and even Skyler from Breaking Bad." Watson did not reference Chet Haze, who is projected to be the only currently famous Northwestern alum who will be relevant to the teenagers of 2031.
Watson did not mention any correlation between the name of Northwestern University and the name of North West, later noting in an interview that that would be "too easy of a joke, way too easy and stupid to be made by any sort of dignified institution."
Student reaction to the admission was generally mixed; while many believed that West's attendance would enrich Northwestern, others felt that the decision seemed too similar to the New York University's recent offer of admission to Blue Ivy Carter, The University of Chicago's 2012 offer of admission to Chief Keef, Washington University in St. Louis's 2010 offer of admission to Madeleine Albright, and Lake Forest College's longstanding offer of admission to all potential descendants of Sufjan Stevens.
North West, Kanye West, and Kim Kardashian could not be reached for comment. Believe us, we tried.