Pat Fitzgerald Pleads for Lake Forest College to Come Back to Big Ten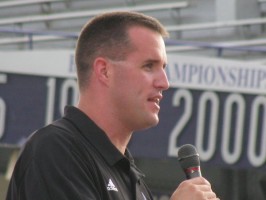 LINCOLN, NE — Just hours after a demoralizing defeat by the Nebraska Cornhuskers, NU Football head coach Pat Fitzgerald publicly begged for Lake Forest College to follow suit with the University of Maryland and Rutgers University and join the Big Ten Conference. Northwestern is currently 0-5 within the conference.
"We could definitely use you Foresters right about now," said a wincing Fitzgerald to Lake Forest officials, which participated in the founding of the Big Ten in 1895 while never actually joining the association.
Lake Forest College, located in Lake Forest, Illinois, is a small liberal arts school with under 1,500 students, and plays in Division III athletics. "We would very much appreciate a liberal arts approach to the Big Ten athletics system," said Fitzgerald through a weak smile.
"Maybe we could even get the fine folks at the University of Chicago back too, huh? Get some real intellectuals to join the Big Ten–you know, diversity," Fitzgerald mused, through a broken set of sporadic exhalations which may have been a laugh. "We could help you out with building a stadium to fit all one-and-a-half thousand of you, even. Or you could just use ours. Anything to make it easier for you to come back. Please come back. Please come back. Please come back."
Fitzgerald intended to begin his press conference two hours after the Wildcat loss to Nebraska. However, his airing had to be delayed another two hours as an unusually quiet Fitzgerald was rendered inaudible over the roar of celebrating Nebraska fans, many of whom were doing so for the first time in their lives.
In a departure from his most recent press conferences, Fitzgerald did not cry. Some speculated that Fitzgerald had simply run out of moisture due to the combination of tears and sweat that has lately become quite familiar to Northwestern athletics fans.