Hot Tips for Northwestern's Early Decision Applicants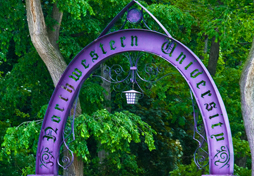 As the deadline for Northwestern Early Decision applications approaches, The Northwestern Flipside would like to offer some tips for those prospective students looking to fine-tune their essays at the last minute to ensure their acceptance into the university.
1. Northwestern University's undergraduate campus isn't in Chicago; it's in Evanston. Mixing this up will send a message that you haven't done enough research. Stay away from referencing the city of Chicago, and instead reference beloved Evanston institutions like The Keg or Mayor Tisdahl.
2. Northwestern University application essay readers appreciate confidence. Try positively comparing yourself to current Northwestern students using publicly available statistics such as ACT and SAT scores. If you can demonstrate that you're smarter than the average member of the classes of 2016 or 2017, you're in for sure!
3. Here at Northwestern, we love to poke fun at ourselves, and we love all fans of our athletics program! Try referencing our fifth consecutive loss in football in order to show that you're a serious Wildcats fan, but also that you also don't take yourself too seriously.
4. Strongly consider being the son or daughter of a Northwestern graduate – it never hurts to have that legacy status!
5. One of Northwestern's most cherished institutions is the Garrett Evangelical Theological Seminary. Make sure to reference how much you look forward to interacting with students from the Seminary in order to show that you belong in our community.
6. It always helps for admissions staff to be able to visualize your student experience at Northwestern. Try photoshopping yourself onto a Wildcard to show that you would fit right in!
7. We're all very proud of the amazing people associated with Northwestern. Try fitting in your admiration of famous Northwestern figures such as John Evans, Stephen Colbert, Arthur Butz, Jerry Springer, J. Michael Bailey, and Governors Rod Blagojevich and Daniel Walker.
8. Northwestern University really likes knowing how much you care about attending. Try referencing people like your ACT tutor and your privately hired college admissions advisor to show how much you were willing to pay to get to study at Northwestern.
We understand that the college admissions process can be very stressful – hopefully our advice can ensure that your Northwestern application essays are the only ones you need to write. Good luck, and we look forward to seeing approximately 30% of you on campus in 2014!