Slopestyle Course Cited with Safety Concerns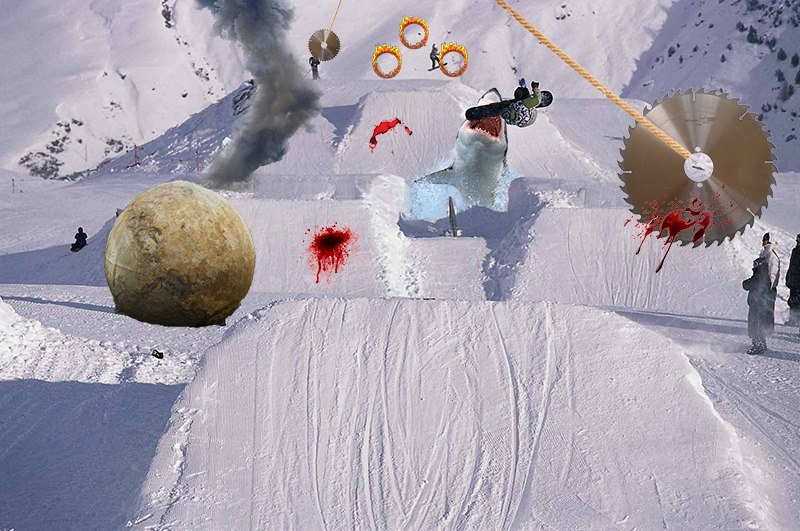 SOCHI, RUSSIA — Sage Kotsenburg, an American from Park City, Utah, became the first medalist of the Sochi games on Saturday. Kotsenburg took gold in the men's snowboard Slopestyle event, which integrates skate park-esque features into a downhill snowboard course.
However, the event was perhaps more notable for the conspicuous absence of snowboarding rock star, Shaun White, who withdrew from the event citing safety concerns. Many considered White among the favorites to reach the podium.
As Slopestyle made its debut as an Olympic event, Sochi's course made headlines for its more treacherous elements. Critics pointed to multiple rings of fire, swinging buzz-saws, and jumps over pits of hungry piranhas as marginally too dangerous. Further, during qualifying rounds, participants had to outrun the giant boulder from Indiana Jones and the Raiders of the Lost Ark, which was sent rolling to eliminate those with the slowest times.
Several athletes received injuries during practice runs ranging from bruises to severed limbs, prompting White to pull out of the competition.
Despite the concerns, the course's designer, Wile E. Coyote, defended it, brushing aside claims that it was unsafe. This sentiment was echoed by Olympic officials, who said in a statement released on Friday, "The Slopestyle course is still less dangerous than the drinking water around here, so we're not sure what there is to complain about."