Fall Quarter Survival Guide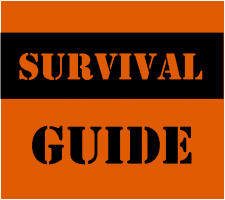 As the only academic calendar with its own hashtag, the quarter system is unpredictable as it is spirit breaking. Just like college football, the week-by-week breakdown on midterms and assignments is always a hot topic. The PAC-12 has nothing on the metaphorical Hail Mary you threw to submit those discussion questions on time after a night at the Deuce. The Flipside is going to spell out fall quarter for you before you end up eating pumpkin pie concretes daily and looking at transfer applications to Florida.
Wildcat Welcome – GO 'CATS! PAs and CRU, it's your time to shine. More pronunciations of the Greek alphabet will be heard now than the average freshman's SAT score. Sophomores are really not that old no matter what they say.
Week 1 – Enjoy exploring the finer areas of off-campus Evanston (Chicken Shack?) during freshmen freeze without the worry of losing your jacket to the depths of a moldy basement. More importantly, kick back and relax while professors figure out what the heck Canvas is, or make their TAs do it.
Week 2 – Everyone prematurely decides whether we're booking tickets to Pasadena or if Fitzerland should lose its namesake. You may have a couple of assignments but the lack of posted grades leads to an insurmountable overconfidence.
Week 3 – Sunday night dinners begin and girls consider the possibility of cross-dressing for free Cheesies because free Natty Lite is never enough. A slight hate for that one class begins creeping in. You already regret floorcest you committed and maybe even think about calling home for the first time.
Week 4 – Homecoming causes a renewed surge in purple pride. Famous Medill alumni are everywhere. What exactly is a cornhusker? How can we incorporate that into a chant that incapacitates football performance?
Week 5 – It's your first midquarter breakdown and you will broadcast it on social media no matter how hard you resist. Your blatant need for likes and personal validation is almost permissible.
Week 6 – Sorority preview scares the shit out of boys and girls alike. Someone, somewhere dresses up as something offensive for Halloween and we will get an email from the administration about it before getting blasted on Jezebel.
Week 7 – It's your second midquarter breakdown, also known as "Oh my God, what am I doing with my life and when will it all end?!?"
Week 8 – Long, long nights go on without end. The prevailing winter darkness sets in. Your inner Edgar Allen Poe or Sylvia Plath emerges in all of your dealings with the outer world. If there isn't already snow on the ground, you feel frozen inside. Not even pumpkin spice can pull you out of your despair.
Week 9 – Thanksgiving is here and so are all of the Facebook posts about cab-sharing. No matter, because the 'Cats are playing Illinois and we win something shaped like a hat.
Reading Week – Reading week is the only time to acceptably binge drink five, six, seven or eight nights in a row. This stems less from a wannabe-state-school attitude and a more from a wanting-to-feel-anything-but-cold attitude. If you're lucky, you get a Justin Barbin pro-pic from formal.
Finals Week – No, you do not win a prize for spending the most time in the library. Yes, you do have to do it all over again.