Northwestern's Most Underrated Greek Organizations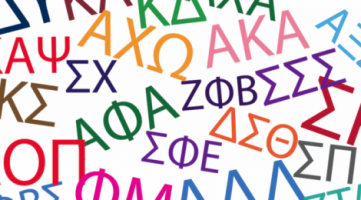 EVANSTON — With Greek recruitment in full swing at Northwestern, The Flipside decided to take a look at some of Northwestern's lesser-known houses. After careful consideration of all Greek organizations on campus, we have profiled some of the most underrated fraternities and sororities at Northwestern; it's probably not too late to join!
Fraternities
Kappa Gamma Beta – Northwestern is a diverse community, and political affiliations are no exception. The Communist brothers of KGB are willing to share all that they have, just as long as you don't disagree with their exec board.
Phelta Thi – If you're looking for a frat filled with affectionate smooth talkers, this is the place for you. Phelta Thi's are known for their welcoming atmosphere and penchant for whispering in people's ears. Self described as "tactile learners," these guys are smart AND creative. Even though some people think they're super creepy, in reality they're only vaguely creepy.
Phi Bumble Beta – As Members of Northwestern's premier beekeeping fraternity, Bumbles are great at getting honey and know their way around an apiary. This frat is filled with tradition, as beekeeping dates back 15,000 years. Though its been rumored that Bumbles have to endure some pretty serious (and creative) hazing, the brothers assure us that no bees are ever intentionally harmed, as is sworn in the beekeeper's oath. Pledges, also known as Worker Bees, are shown the basics of beekeeping and are given their PBB veil once they are initiated.
Fappa Fappa Fappa – Nice guys. Don't get out much. Really good wifi signal.
Sororities
Omega Mu Gamma – WOW. This sorority is literally SO underrated. OMG sisters are honestly the best, they are just the sweetest girls you'll ever meet. They all love each other so so so much and always get along and never intentionally accidentally exclude anyone. Sisterhood.
Delta Delta – Also known as Double Delta, this sorority is known for being full of particularly well-endowed women. These girls have big brains and big hearts, among other things. They also have legendary philanthropy events like the Big Splash, a double barrel water balloon slingshot contest, and Jumping Jacks for Justice.
Delta Omega Gamma – Are you a bitch? Are you literally a bitch? If so, DOG may be the house for you.
Rho Rho Rho – your boat, gently down the stream. Merrily merrily merrily merrily, join this sorority.