Low-tier Consulting Firm Internship App Only Requires 5 Interviews, Sacrifice of Orphan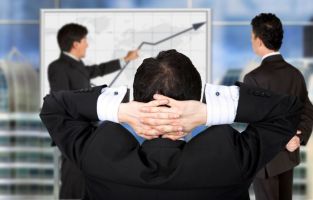 EVANSTON—Representatives of the up-and-coming small Nebraska-based consulting firm Bulsh, Hitt & Associates were positively surprised by the amount of students who attended their info session mainly to find out more about the company's comprehensive internship program.
"Many of the top-tier consulting firms have demands on these young students that might even seem excessive, so as a new contender in the field of Wall-clock Installation Strategy Consulting, we definitely try to be more low-key," said the lead presenter, Sally Maddix, the Lead Analog Hand Movement Analyst at the company. "Students seemed really relieved that we only require five rounds of interviews, beating a certain number of other candidates in armed mud-wrestling, and a flawless performance of a blood sacrifice of an orphan. The things other companies put these poor young students through make me shake my head," adds Maddix.
A typical part of information sessions, questions from the audience, could not be amiss. When asked about their favorite part of being employed at BH&A, however, the representatives gave widely divergent and unorthodox answers, ranging from "I really love the people I work with" all the way to "I guess the company culture is my favorite part."
Many students present at the gathering expressed their gratitude to the company for their laid-back approach to internship applications. "This is way more lenient overall than the big names, like the Casual Cannibalism workshop McSchwinzee had us go to. That doesn't mean I'm leaving anything to chance, though," warned Andrea Raymond, a McCormick junior. "I'm actually heading back to my dorm right now to get some machete practice."