Freshman Already Claiming Winter Quarter Will Go Better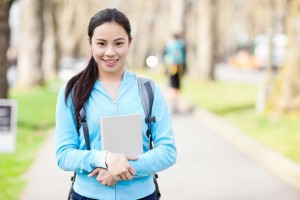 EVANSTON – Freshman Meredith Summers, WCAS '19, is already claiming that winter quarter will go better than her first few weeks at Northwestern University. She allegedly insisted that her GPA could only go up as she clicked the drop button for Intro to Shakespeare.
After receiving a B+ on her first assignment, Summers believes all she needs is a fresh start. "I just had to accept that this was a bump in the road," she told her best friend Heather Heathers. "My parents will understand that class just wasn't for me."
Summers also believes she can power through the testy Weinberg distribution requirement system. "This earth science distro is just a little too challenging, but I'll find another one I like better," she tells anyone who will listen. Heathers agrees with her bestie, saying, "My MENU class has a lot of homework, and so does orgo, but I heard I'll get the hang of it by next quarter."
Sources say that the next item on Summers' agenda is starting a support group for people victimized by hard work, sleep deprivation and unrealistic expectations.