Wide Receiver Christian Jones all too Aware of Drop Deadline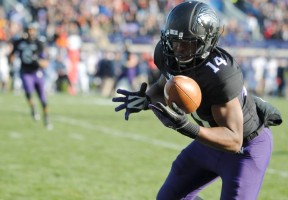 EVANSTON — Sources within the Northwestern football office have revealed that wide receiver Christian Jones is anxiously awaiting the upcoming administrative drop deadline.
Last spring quarter, the senior receiver dropped only one class. This achievement marked a vast improvement and impressive bounceback after a career worst three drops in the Winter of 2014-15.
"You can't blame receivers for dropping classes," said offensive coordinator Mick McCall in a press conference about the matter. "We try the best we can to work with them on the fundamentals, but dropped classes are just part of the academic game."
Jones says he hopes to make it through fall quarter without a drop for the first time since his freshman year. "I was on fire that quarter, man," said a clearly nostalgic Jones. "Every class those professors could throw at me, I could handle."
Coach Pat Fitzgerald is supportive of Jones' effort, but is not optimistic: "Every great receiver has drops. Jerry Rice, Randy Moss, Tim Brown…They all had their fair share of dropped classes."